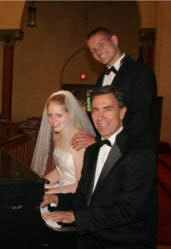 Here we are to help make your wedding and reception an unforgettably beautiful experience with:
THE RIGHT PERFORMANCE
Every bride and every wedding is different.
We want to find out exactly what you want for your ceremony and/or receptions. If you need ideas, you can relax. We will provide you with plenty of guidance in personal meetings, over the phone, or through the internet. We want to make sure that you get the perfect look and sound for your event from our professional musicians.
PROFESSIONALISM
You will want to deal with people that know what they are doing, and are pleasant, and courteous. We want to make the whole experience more enjoyable for you, and your guests.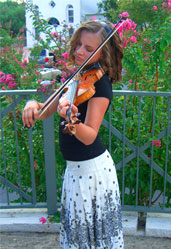 THE RIGHT VALUE
Making sure that you get the musical product that is right for you is the place to start to make sure that you get good value. We have a wide range of musical services and products for your rehearsal dinner, ceremony, and reception. You can find the right music to match your tastes, and pocketbook.

Our accomplished performers can offer you some amazingly rich, and powerfully beautiful music because of their abilities, and their fine instruments and equipment. You will be pleasantly surprised at the exceptional quality of music you can afford for your wedding.


It sounded just like an orchestra. I was amazed at the beauty, fullness, and class that the two of you brought to the wedding music. I see a lot of weddings and I was truly impressed!
Debbie Sorensen
, Wedding Coordinator
Oakwood Baptist Church, New Braunfels, TX

Terry was a dream to work with----he brought my vision to life, with his professionalism and exceptional musical talents.

We wanted our reception to be memorable, and mostly, a blast! Terry and his band delivered. Their energy, talent, and humor made for the celebration I had dreamed about.
Courtney Duncan

What a beautiful and majestic sound you created. Our guests couldn't stop talking about it. I wanted something special and you made it happen!

Susie Russell

My husband and I wanted top-quality musicians on our wedding day. Terry worked with us carefully and he and the violinist played like angels. At the reception, they brought our families together for several joyous hours of song and dance. It was an evening of a lifetime!

Molly Roth