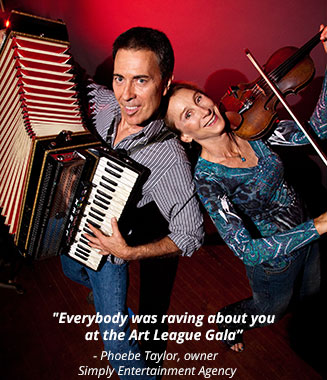 We have enjoyed the pleasure of Terry and his violinist entertaining our members on several occasions over the past 3 years. Without fail, they create a grand atmosphere to compliment each event. Their huge talent mixed in with a humble nature and willingness to adapt and adjust as needed make them a true treasure. We plan to continue utilizing their services and I would highly recommend this duo to anyone.
Vincent Baker
Assistant Clubhouse Manager
Lakeside Country Club, Houston, Texas

We kept hearing incredible things about how wonderful you two were.
Viviana Durand
Project Manager, CE Group