Terry and crew are bringing America the unforgettable sounds of Europe: Italian, French, German, Viennese, Irish, Klezmer, Gypsy and much more. Their spirited and soulful renditions transport the mind to these distant lands and foreign shores, creating the perfect ambience for your themed event.


Catie Offerman and Terry Cavanagh
Present Their Newest Release
"Memories"

It's all about music with family and friends around the Offerman house. Catie began playing the piano at the age of four. Today she is fourteen, and plays the violin, piano, accordion, guitar, a folk xylophone, and mandolin. Ask Catie about her fondest memories and she will tell you about her grandfather. "I would like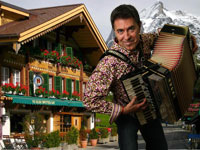 to dedicate this CD to my grandfather. He so richly blessed me with his enduring love and tremendous support for everything I did. He was always there for me and encouraged me to pursue my dreams and reach my highest potential. The songs on this CD bring back fond memories of me learning and practicing them with my grandfather intently watching. I hope these songs touch your heart just as much as they do mine.


As a performer in a top Austrian band, Die Mürztaler, and later as the director of the Steiermark Oktoberfest in the Baton Rouge area for over 12 years, I've had a chance to see a lot of entertainers. Terry is top-notch: he's always had the talent, energy, and know-how to show my audiences a great time. He has definitely been my first choice for Oktoberfest entertainment in America. The Alpine Express band is truly America's Oktoberfest Band.
Richard Netzberger
Owner/Director
Steiermark Oktoberfest &
Steiermark Productions